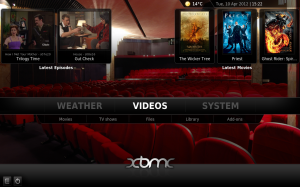 This is an update to an older post: My perfect TV setup
I recently upgraded the whole media consumption set-up in my apartment. This post describes all of the different aspects, hardware and software components in use.
Hardware
Mac Mini – this is the main hub of the whole operation. It sits in my living room, connected to sound system and projector.
Specs: 2.3GHz i5, 2GB RAM, 500GB HD, Intel HD 3000 Graphics.
Apple TV – the new 1080p one. Connected to the LCD TV in my room.
iPad – also the new one.
Projector – still the same old one that won't die. Only 720p, but I refuse to replace it before it has reached the end of it's lifetime.
Logitech Harmony – universal remote to control the cable box, sound system, projector and XBMC (via Mac Mini's infra red port) in the living room.
2TB harddisk – connected to Mac Mini via USB.
2x AirPort Express – connected to speakers in the kitchen and bathroom.
Software on Mac Mini
XBMC – with it's recent Eden release and a few configuration tweaks the perfect, easy to use frontend for all my movies & TV shows.
Transmission – Torrent client with a nice web based remote frontend.
Catch – to automatically download new TV show episodes.
Air Media Server – serves media to iOS devices.
AirServer – receives AirPlay streams from iOS devices.
Software on iOS