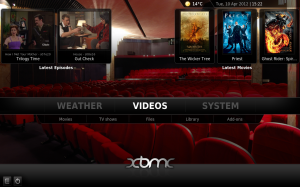 This is an update to an older post: My perfect TV setup
I recently upgraded the whole media consumption set-up in my apartment. This post describes all of the different aspects, hardware and software components in use.
Hardware
Mac Mini – this is the main hub of the whole operation. It sits in my living room, connected to sound system and projector.
Specs: 2.3GHz i5, 2GB RAM, 500GB HD, Intel HD 3000 Graphics.
Apple TV – the new 1080p one. Connected to the LCD TV in my room.
iPad – also the new one.
Projector – still the same old one that won't die. Only 720p, but I refuse to replace it before it has reached the end of it's lifetime.
Logitech Harmony – universal remote to control the cable box, sound system, projector and XBMC (via Mac Mini's infra red port) in the living room.
2TB harddisk – connected to Mac Mini via USB.
2x AirPort Express – connected to speakers in the kitchen and bathroom.
Software on Mac Mini
XBMC – with it's recent Eden release and a few configuration tweaks the perfect, easy to use frontend for all my movies & TV shows.
Transmission – Torrent client with a nice web based remote frontend.
Catch – to automatically download new TV show episodes.
Air Media Server – serves media to iOS devices.
AirServer – receives AirPlay streams from iOS devices.
Software on iOS
Outline
Mac Mini is my always-on media server. It serves it's video signal, running XBMC, to the projector. XBMC periodically scans all the appropriate directories on the external harddisk for new movies and TV show episodes.
iTunes is running with a copy of all of my music and Home Sharing turned on. That way I can listen to music on my iPad, iPhone or Apple TV whenever I'm at home and also stream it to AirPlay receivers in the living room (AirServer), my room (Apple TV), kitchen (AirPort Express) & bathroom (AirPort Express).
Further Mac Mini checks the showRSS website via Catch for my subscribed TV shows and downloads new episodes via Transmission. The finished episodes are sorted into the correct directories on the external harddisk. I can also add new downloads via Transmission's web frontend that's accessible from the outside and very usable even on small smartphone screens. That way, whenever I turn on the projector in the living room, I get greeted by XBMC with all new and unwatched content in my library.
To tie in all iOS devices, I am running Air Media Server and AirServer.
The first serving the same media as XBMC's library to iOS devices connecting via Air Media Center iOS App. This also works remotely since Air Media Center automatically configures port forwarding on my Time Capsule. AirServer enables me to send media via AirPlay from my iPad or iPhone to the projector's output in the living room. AirServer also supports AirPlay mirroring in it's latest version, which is really awesome for games like Real Racing 2 HD which I can now play on the big screen.
If I want to watch a movie or TV show in my room, I just fire up Air Media Center on my iPad and send it's video output via AirPlay to the Apple TV.
With all those devices interconnected and relying, as much as possible, on Apple's protocols, there is a myriad of different possibilities: from having different music playing on varying combinations of speakers throughout the apartment, to streaming movies to my tiny iPhone screen over 3G while riding the subway to work and everything in between. I think I'm quite happy with the way it's all working together now, I think this might finally be a system sustainable a bit longer than all the previous hacked together arrangements.