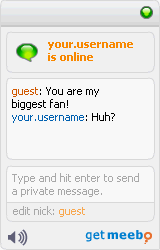 The popular online Instant Messaging site Meebo launched a new service.
With meebo me you can easily embed a widget on you blog oder website, allowing visitors to instantly chat with you.
I think this service is great as it makes communicating with your sites visitors very easy and very instantaneous.
The only downside is that I have to be logged in on the Meebo site to use the service. Think of the advantage if they would offer a chat protocol that I can connect to with my Adium client to see people visiting my blog and talk to them. I can't really imagine wanting to have the Meebo website open all the time.
Anyway… the idea of meebo me is awesome and very innovative.