This was originally written as an email to Steve Kamb of Nerd Fitness who asked for travel experiences to middle america to decide where to go next. I think it turned out quite well, so I'll post it here for all of you to enjoy. Read on for my little roundup on how to enjoy Costa Rica, what you can do, what you shouldn't do and some good places I found.
First and foremost: Get out of San José as quickly as possible
Since the capital possesses the only international Airport, this is the place you'll most likely end up arriving. The problem is: it's inland. So compared to the coast its weather is much cooler and it is more likely to rain. The other thing is, in contrast to the rest of the country, there is a relatively high crime rate and as soon as the "ticos" find out you're a tourist (which is relatively hard to hide if you're a blonde, white, middle european looking person like me), they try to rip you off every chance they get. Adding to that it is loud, crowded, dirty and generally not worth of staying very long, in my opinion.
As soon as you get out of the city though, the weather gets warmer and sunny quickly, the people get really nice and the country spreads out it's beautiful, diverse landscape for you to explore.
The Pacific coast, southern end of Peninsula Nicoya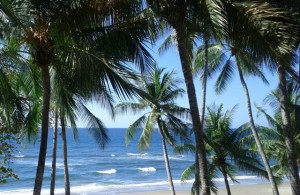 So after two days in San José I headed out for the west coast, since the rainy season had already started on the Caribbean side, and settled for a stay near Tambor in the southern part of Costa Rica's peninsula Nicoya. I checked into a quiet resort for a week and did nothing but relaxing in a hammock under the palm trees and finishing 4 books on my Kindle (the 4-Hour Workweek being one of them). My daily routine also consisted of a run on the beach in the morning, followed by a general full body workout, using whatever was available. I can tell you, you'll get really weird looks if you start doing bench presses, squats and curls using driftwood, pull-ups on palm trees and inclined push-ups on beach rocks. But it was a lot of fun!
Places you should definitely check out around the southern end of Nicoya:
Montezuma – a sleepy little town with a very "hippie feeling" to it. My special tip is to get a table (preferably the one where you're sitting on the floor – japanese style – right at the beach front) at the superb "Playa De Los Artistas" and watch the sunset, while having one of their delicious meals from the daily changing, handwritten menu.
Santa Teresa/Mal Pais – a never ending beach with various different breaks suited for long-boarders, short-boarders, beginners & experts alike. I watched the "Reef Classic Costa Rica 2012" surf competition there and had a lot of fun seeing those guys master the waves. Also if you're there, be sure to stick around for the breathtaking sunset.
Tambor – for the best typical "tico food" and a cheap place to sleep, check out "Restaurante Cristina". I had the freshest, delicious red snapper there, served on the patio in front of the house.
One word of caution: if you think about renting a car to get around in that area, definitely get a 4×4, because only a minority of the "streets" are paved. Most of them are just dirt roads and really, really dusty (so keep your windows closed).
Playa Grande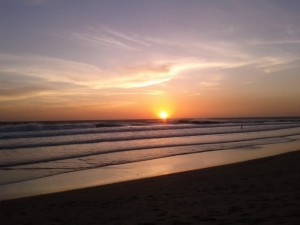 This little gem is located a bit further up the west coast, right next to the town of Tamarindo, but conveniently separated from that noisy, crowded (very, very) touristy place by a small estuary which you can cross for one dollar on one of the boats that are always waiting there. Turning away from Tamarindo you are presented with a quiet, miles long beach with wonderful waves and surprisingly few people. About 100% of the folks in the water are on a surf board, starting in the early morning until the sun sinks directly into the water. I had the pleasure of checking off one of my life goals here by surfing while the sunset dispersed it's deep red color on the waves. This is real soul surfing!
The accompanying town seems to be primarily inhabited by american ex-tourists, who just stayed there, because it's such an awesome, laid back place to live. I settled in a nice little hostel called "Playa Grande Inn" which had surf boards & bikes for rent and the nicest, most welcoming crew I've ever experienced in all of my journeys. I immediately felt as part of the big Playa Grande family and had lots of fun on several evenings, drinking at the hostels own bar with Herman "the best bar keeper in Costa Rica" (the words of another guest) and enjoying their homemade pizzas and fresh seafood.
Another one of Playa Grande's attractions are the big leatherback turtles that lay their eggs on the beach during "arribadas" (turtle nesting season). Hatching season is from October to May and must surely be a sight to see. In 1990 the whole beach was incorporated into "Marino Las Baulas National Park", which is why you can't build houses at the beachfront any more, or have lights shining in that direction. Some people that bought lots of land facing the beach are really pissed off because of that fact, but it secures the whole area from ending up like Tamarindo with all it's gift shops and cafes.
I really liked staying in Playa Grande and plan on returning there in the future, I hope it will keep it's charm and quiet beauty.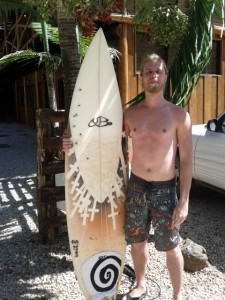 General Costa Rica tips & findings
I really don't know why, but tico's don't seem to be night owls. Nearly everywhere I went 10pm was about as long as the evening lasted. At 11pm at the latest everyone was at home, in their beds and sleeping. I reluctantly adapted (staying awake well after 2am most of the time while at home), but I guess it had it's advantages, as I was wide awake and full of energy every morning at 7am and could head out for the first surf of the day before having breakfast.
Ticos don't have street addresses. So if you're staying in a hotel somewhere be sure to pick up one of those little cards with a description on how to get there, otherwise you'll be stuck trying to explain to a cab driver that you want to go to that place around the corner from the supermarket, near the neon sign right down that one big street
Their "addresses" literally look like this: In the district of Papas, turn left at the big Coca Cola sign, 100 meters south, 50 meters west, that building there, in San José. I really wouldn't want to be the postman over there!
Get friendly with the local wildlife. You'll encounter every species from geckos to spiders, monkeys and colorful birds everywhere inside and outside your room.
Know how to speak Spanish. Even though a good amount of Costa Rica's GDP must derive from tourism, very little of the people know how to speak English. I even encountered one tourist agency, where I called for a shuttle bus ticket, that had English brochures and websites but had to put me through three times until I reached someone who was able to understand my request.
If your Spanish is sub-par don't despair though, only learn one phrase that can mean everything from "hello", "good bye", "how are you" to "everything's ok" and conveniently sums up the whole Costa Rica experience:
Pura Vida!