Instacities – guess what city it is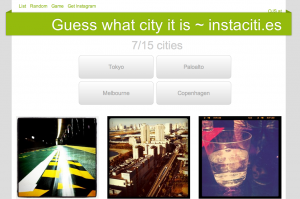 Oliver just released a new browser game called Instacities that lets you guess what city is displayed, based on photos taken via Instagram.
Beware: It's a highly addictive game

There are plans to have a highscore table and deeper Facebook integration in the future, so be sure to check back often and follow Oliver on Twitter to stay up to date.
No comments yet.
No trackbacks yet.

about 2 years ago - No comments
I've recently succumbed to peer pressure and registered myself in the vanity game called Klout. What it does is basically tell you how "influential" Â you are across several different social networking channels (mainly Twitter and Facebook) and how far your "reach" is. I have to admit, it is kind of fun to see your own…