Florian Beer
I am running my own company 42dev e. U. where I provide web- & mobile solutions to my clients.
Homepage: http://42dev.eu
Posts by Florian Beer


I've started a new blog about a recent passion of mine: The Internet of Things.
The site Linked Things will accumulate information about products that are connected via the internet or local networks and can be controlled, combined and programmed.
Currently I'm aiming for one new post per week, but if you've got links or ideas please use the contact form on the page to send me your messages so I can gather as much data as possible about the internet of things and up the volume of posts with your help.
And please spread the word!

This was originally written as an email to Steve Kamb of Nerd Fitness who asked for travel experiences to middle america to decide where to go next. I think it turned out quite well, so I'll post it here for all of you to enjoy. Read on for my little roundup on how to enjoy Costa Rica, what you can do, what you shouldn't do and some good places I found.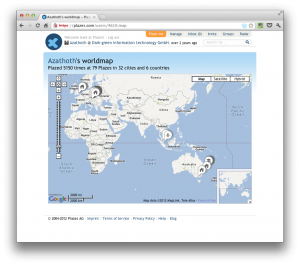 I guess we've had this a long time coming, but now it's official: Plazes.com will go out of service.
I've received this email today:
Hi Azathoth,

Thanks for being part of Plazes. We hope you enjoyed the journey, past or present.

The time has come to say farewell, and next week, Plazes will go out of service.

From next week, you can go to Plazes.com and move your history to Nokia Maps. Your plazes will become favourites on Nokia Maps for your PC or Mac. Shortly after next week, you'll also be able to sync your favourites with Nokia Maps on your phone.

If you like, you'll also be able to download and save a history file containing all your activities and plazes.

With Nokia Maps, you can search for interesting places and find your way there with walking, driving and public transport directions. And if you find somewhere new on your travels, you can add it to the map, write reviews, post a rating and add photos.

If you have any questions, please contact Nokia Support.

Kind regards

Your Plazes Team
For those who don't know; Plazes.com was a very early (I've became a member in early 2005) geosocial network developed in Berlin, Germany, that worked off your internet connection's router Mac address as a location identifier. GPS or WiFi location weren't available then. Later you could also check in via text message from your (pre-smart) phone.
Other then the technicalities it was pretty similar to what foursquare is today (minus most of the gamification features). It was fun! I can remember one time, when I chased down Singapore Airport during a 30 minute stopover, just to reach the smokers lounge at the other end and connect my iBook to the free WiFi so I can score another checkin.
When Nokia bought the company in 2008 I had the feeling, that development of the service pretty much stopped and eventually I too stopped using it. My last checkin was 2 years ago and that's probably also the last time I logged on to their site. This Email today just reminded me of my account and I enjoyed looking through previous travel endavours of my former self.
Thank you & R.I.P. Plazes.com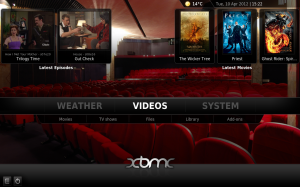 This is an update to an older post: My perfect TV setup
I recently upgraded the whole media consumption set-up in my apartment. This post describes all of the different aspects, hardware and software components in use.
Hardware
Mac Mini – this is the main hub of the whole operation. It sits in my living room, connected to sound system and projector.
Specs: 2.3GHz i5, 2GB RAM, 500GB HD, Intel HD 3000 Graphics.
Apple TV – the new 1080p one. Connected to the LCD TV in my room.
iPad – also the new one.
Projector - still the same old one that won't die. Only 720p, but I refuse to replace it before it has reached the end of it's lifetime.
Logitech Harmony - universal remote to control the cable box, sound system, projector and XBMC (via Mac Mini's infra red port) in the living room.
2TB harddisk - connected to Mac Mini via USB.
2x AirPort Express – connected to speakers in the kitchen and bathroom.
Software on Mac Mini
XBMC – with it's recent Eden release and a few configuration tweaks the perfect, easy to use frontend for all my movies & TV shows.
Transmission – Torrent client with a nice web based remote frontend.
Catch – to automatically download new TV show episodes.
Air Media Server – serves media to iOS devices.
AirServer – receives AirPlay streams from iOS devices.
Software on iOS
Outline
Mac Mini is my always-on media server. It serves it's video signal, running XBMC, to the projector. XBMC periodically scans all the appropriate directories on the external harddisk for new movies and TV show episodes.
iTunes is running with a copy of all of my music and Home Sharing turned on. That way I can listen to music on my iPad, iPhone or Apple TV whenever I'm at home and also stream it to AirPlay receivers in the living room (AirServer), my room (Apple TV), kitchen (AirPort Express) & bathroom (AirPort Express).
Further Mac Mini checks the showRSS website via Catch for my subscribed TV shows and downloads new episodes via Transmission. The finished episodes are sorted into the correct directories on the external harddisk. I can also add new downloads via Transmission's web frontend that's accessible from the outside and very usable even on small smartphone screens. That way, whenever I turn on the projector in the living room, I get greeted by XBMC with all new and unwatched content in my library.
To tie in all iOS devices, I am running Air Media Server and AirServer.
The first serving the same media as XBMC's library to iOS devices connecting via Air Media Center iOS App. This also works remotely since Air Media Center automatically configures port forwarding on my Time Capsule. AirServer enables me to send media via AirPlay from my iPad or iPhone to the projector's output in the living room. AirServer also supports AirPlay mirroring in it's latest version, which is really awesome for games like Real Racing 2 HDÂ which I can now play on the big screen.
If I want to watch a movie or TV show in my room, I just fire up Air Media Center on my iPad and send it's video output via AirPlay to the Apple TV.
With all those devices interconnected and relying, as much as possible, on Apple's protocols, there is a myriad of different possibilities: from having different music playing on varying combinations of speakers throughout the apartment, to streaming movies to my tiny iPhone screen over 3G while riding the subway to work and everything in between. I think I'm quite happy with the way it's all working together now, I think this might finally be a system sustainable a bit longer than all the previous hacked together arrangements.

If an object is converted to an array, the result is an array whose elements are the object's properties. The keys are the member variable names, with a few notable exceptions: private variables have the class name prepended to the variable name; protected variables have a '*' prepended to the variable name. These prepended values have null bytes on either side. This can result in some unexpected behaviour.
Source:Â http://www.php.net/manual/de/language.types.array.php#language.types.array.casting
No kidding? This must be one of the most stupid decisions ever in the whole language of PHP. Why pad some array keys with NULL BYTES? I mean, how can anyone ever be expected to find that out, by looking at the data the script writes out? This makes absolutely no sense whatsoever.
Just spent around an hour hunting this down!
I hope this post will save someone else the amount of hassle this has caused me.